women self defence Seminar
Learn how to defend yourself
the ultimate self defence program for women
It's not about learning all possible fighting techniques but taking advantage of what we already naturally know.
23rd January, Sunday 11am till 1:30pm.
where
Institute Krav Maga Cork, Unit 1 Deanrock Business & Technology Park Cork T12 VY60
Open to everybody
Everyone is welcome. Age 14+ and adults. No previous experience is required.
INSTITUTE KRAV MAGA TRAINING
Every girl, every woman gets to know at least once in her life the scenario of being offended, ignored, assaulted, abused and even dangerously attacked – mostly by men. So we really need some strategies to deal with those situations well.
Self Defense is the use of reasonable force to protect oneself or members of the family from bodily harm from the attack of an aggressor, if the defender has reason to believe she  is in danger. As a matter of fact, we have noticed that women in general, are much more hesitant in starting a defense action. They tend to wait until the very last moment to react. This is a natural instinct, that we have to break through with the rapid implementation of a simple plan.
So this seminar will help women  to get sensibilized for unexpected, uncomfortable or even dangerous situations. We will present solutions for the most common situations women have to deal with, always with the help of both: body and mind. Besides very simple techniques, that can help you through those scenarios, far more important is the change of mindset, that helps you to be tough and badass in every situation of your private, social and working life.
BOOK PLACE TODAY HERE IS WHAT YOU GET
PRICE
Body language and posture

Weak points – where to attack

Straight, Hammer punch, Knee Kick

Protection - Universal Cover

Defend attack bear hug, choke

Attack Scenarios: Harassment 1 – while jogging

Domestic Violence – pulling the hair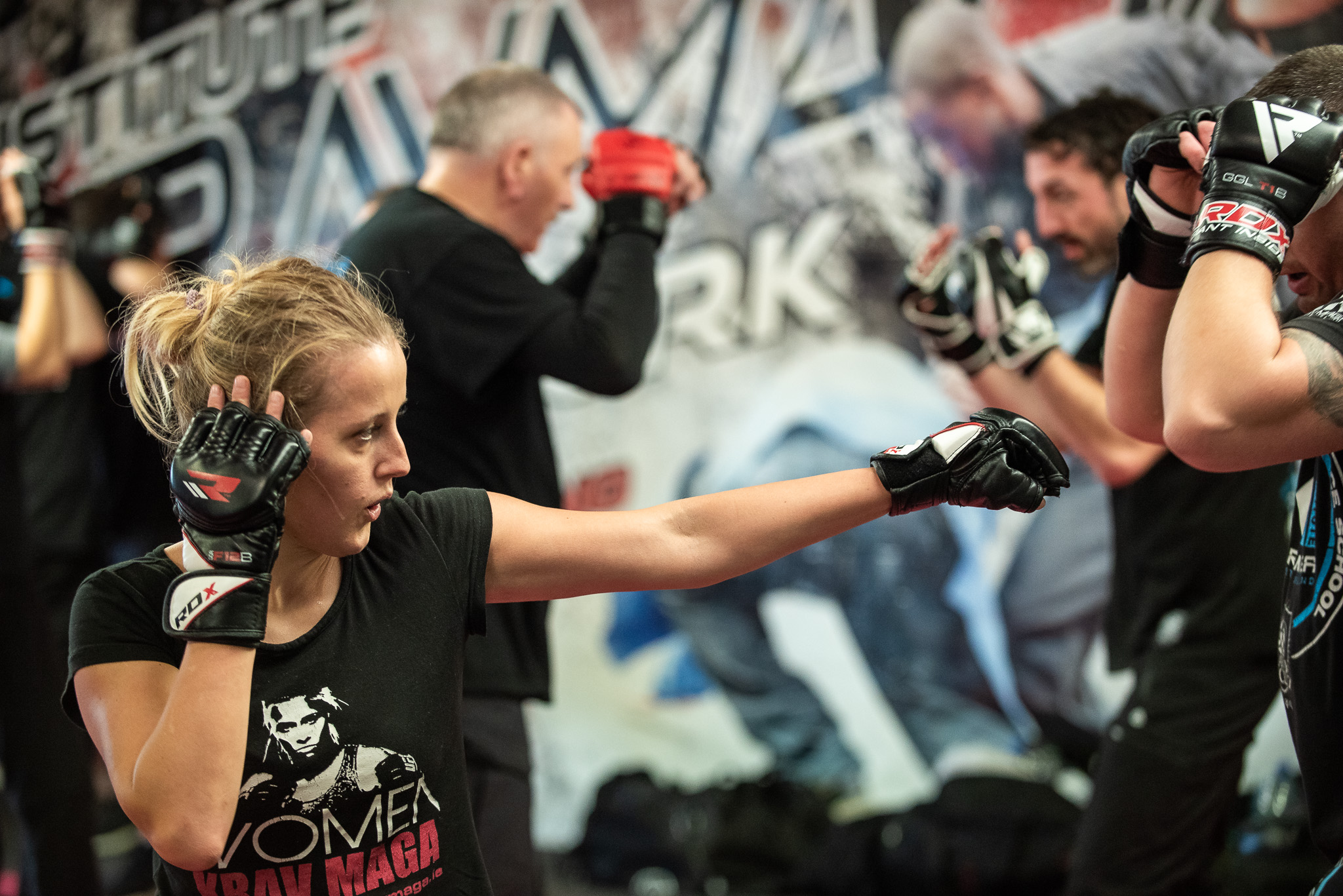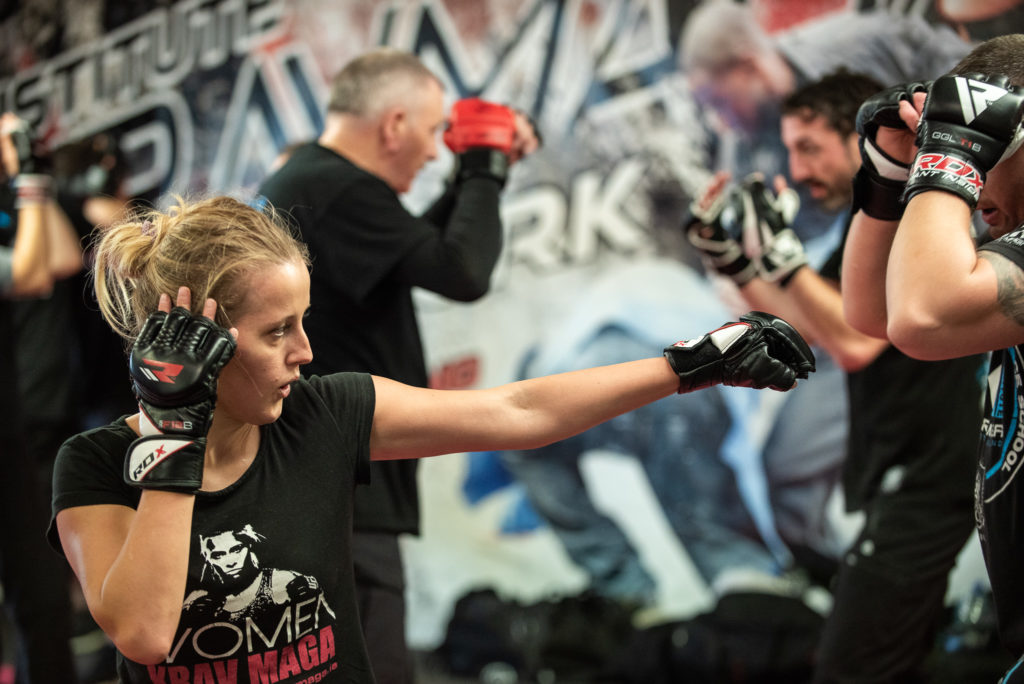 over 20 years' experience in KRAV MAGA AND martial arts
The Course is conducted by Katarzyna Rogalska , Institute Krav Maga Ireland instructor , with many years' experience in martial arts and the fitness industry.
YOUR KRAV MAGA EDUCATION WILL BE
5 STAR AND SECOND TO NONE


"Women Only Self Defence seminar was absolutely brilliant, and Kasia is a very knowledgeable teacher. Would recommend to every woman to attend. Very valuable skills to have."  – Helena Morris
"Thoroughly enjoyed the womens self defence seminar! Very informative and filled with practical tips and advice! Fab class highly recommend!."  – Claire Collins
HEAR WHAT PEOPLE ARE SAYIN'
Martial Arts can benefit so many people! Don't just take our word for it – here's what one of our previous graduates have said!
Vanessa Rio Santos
2021-12-07
One of the most exciting experience I ever had. Thought I couldn't do it but the instructors were really good and have loads of patience 😄😄😄
Words alone aren't enough to say how fantastic is this school.Arthur is a great instructor. While we training although all of us are in different fitness shape we encourages each other,so it is also a great mindset training. My only regret is that due to the kind of my job i can only attend two classes at week.
Eddie Mc Carthy (eddiemac)
2021-10-11
Can see a huge change in my son since starting classes , he feels very welcomed from the start by other members and instructors , great club .
Marta Kedzierska
2021-10-08
I recommend the Krav Maga classes!
Monique Corvenieo
2021-10-08
I've been training at Inistitute Krav Maga for over 2 months now and have been really enjoying it. I've been thaught very useful tactics that can be used in real life self defence if needed; everybody is very friendly and welcoming and there's a great community formed. I will be going for the foreseeable future and recommending for people who are struggling to get started in self improvement/ fitness.
My daughter absolutely loves the club, she comes out buzzing with energy, wanting to show me what she has learnt that evening. The way Arthur teaches the youngsters is amazing, they are learning a life skill without being preached to of all the dangers in the world. The techniques they are developing will become natural to them and give them the best self defence skills in the world. Arthur & the team give 100% encouragement to all the kids every single session...Keep the great work up guys...
Chris mc carthy
2021-09-23
Ramune Cesoniene
2021-07-27
Can't recommend classes enough. If you looking for class for your child to get fit, build self confidence, be active, learn how to protect him self, self defence - this is the right place! Thank you Arthur for all hard work he is doing and quality time he is spending to teach kids.
Artur gives awesome challenging classes! Great for getting fit, learning self defense losing weight and getting strong - I am so glad I joined - I love it! 10/10
Everyone is welcome. No previous experience is required.
This course will be limited in places as our instructors want to spend as much as as possible with you to ensure you get as much as you can from the course. 
Book on early to avoid disappointment as we are expecting a sell out!
Frequently Asked Questions
Introduction/Strategie
Ready Position
Stop
Step back
Cover
Open hand punch 
Straight punch
Knee strike
Hammerfist back
Scenario Training Jogging
On what is our training based on?
This course is built on the study and investigation of the human instinct and our own real experiences and, therefore, continues to evolve as the urban scene changes. It's a simple and straight-forward learning system, the training is based on innovative and creative techniques.
What Clothing or Clothing Do I Need?
You will only need your normal gym gear, a sweat towel, bottle of water to keep yourself hydrated whilst training as we provide all other relevant training equipment.
Im a beginner, can I come to your classes?
Yes. Our classes accommodate both beginners and experienced people who have had other types of martial arts & self defence training.
Am I too Old For Your Classes?
Our eldest student is in his 60's and he's absolutely loving the classes, so no one is ever too old to join.
will i get hurt during your classes?
Despite teaching no nonsense, reality based street defence; our classes are not only taught in a very fun and enjoyable manner but more importantly are always taught with great care and control to promote a very safe environment for all students.
Getting hurt in our classes should never be a concern for any potential student, especially when we have students ranging from only 6 years old to students in their 60's.
From What Age can somone join your classes?
Super Kravers is our youngest age group ranging from the ages of 6 to 9 and Smart Street Juniors& Teens ages 10 – 14yrs.
do i need to be physically fit before joining your classes?
Absolutely not. In fact, many people join our classes especially to get fit and into shape. We have had people join our classes who started off very unfit and only in a matter of a few weeks, their fitness greatly improved and continues to do so. Read the testimonials of these people yourself on our reviews page.
what type of people attend your classes?
It can be very daunting for many people to come to a new martial arts / self defence class for the first time, especially when many places are notorious for having testosterone and ego just over-flowing in the air.
We are extremely proud that our classes are nothing like that all. It's something about our training at Krav Maga as well as the overall culture promoted within our classes by our Instructors that just does not allow for any ego. Our classes are in fact well known to be very warm and welcoming, where even the experienced students are always happy to help any new comers.
When someone new joins our classes, there is a reason why we always say "Welcome to the Krav Maga Family!" It's because people really do get a sense of family when becoming part of .
Can I only attend one class per week or do I need attend more classes each week?
We have some students who can only make one lesson per week due to other commitments and then we have other students who come four times a week.
The progress made by training more than once a week will naturally be far greater. But it is understandable if you have other commitments as training once a week is still much better than having no training at all.