Martial Arts & Self-Defence for all Ages
Institute Krav Maga Cork is reality-based martial arts school teaching self defence                                and self confidence.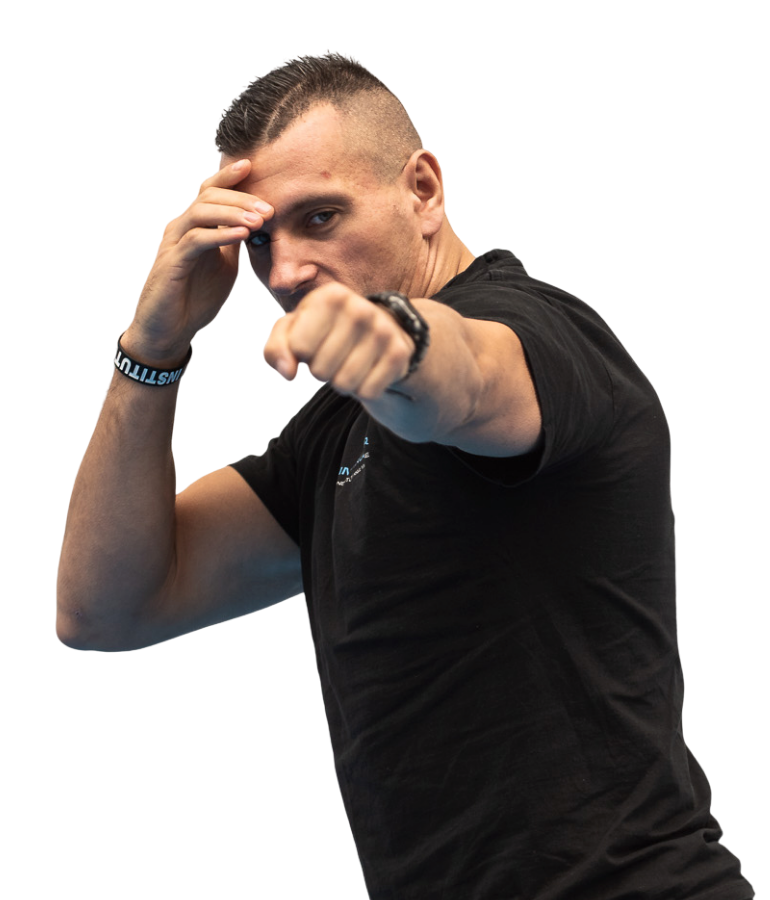 Institute KRAV MAGA head INSTRUCTOR
One of the most experience Krav Maga instructor in Ireland and Europe.
Arthur Dziadkowiec is an INSTITUTE KRAV MAGA Founder / Head Instructor, Expert Black Belt Krav Maga Instructor with almost 20 years' experience, Defence Lab Instructor, BJJ Blue Belt, Spartan Physical Strength Coach Who Has Taught modern Krav Maga Combat Methods to over 2,000 Students in Cork and Ireland.
He has traveled the world training and  learning on numerous camps, seminars and programs, including S.E.R.E (survive, evasion, rescue, escape) and the H.S.R.T (High Stress Reaction Training) , CTA – Counter-Terrorism and Anti-Skyjacking Course, TC3 (Tactical Combat Casualty Care) , completed Military and Law Enforcement Instructor Course in Israel and he is qualified VIP third party protection instructor.
His approach to Krav Maga is simple, teach and empowers all his students with power of Martial Arts.
PRACTICAL SELF DEFENCE PROGRAM FOR EVERYONE
NEXT BEGINNER PROGRAM OCTOBER 20TH
Protect yourself and your loved ones from any kind of attack. With this program you'll receive the necessary tools to inflict the maximum possible damage to one or several opponents and at the same time, minimize the damage received.
Institute Krav Maga is a free-thinking reality-based martial arts for both kids and adults.
Since 2006 in Cork
"A PLACE OF INVESTIGATION" NOT JUST ANOTHER 'SELF-DEFENSE SYSTEM'
Institute Krav Maga is NOT just another "self-defense system". This is the most complete, battle-tested, peer-reviewed COMBAT systems ever developed to aid YOU on your journey to discovering YOUR potential.
Club of the year Winner Award 2019/2020
CMAP Club of the Year 2019/2020.
Institute Krav Maga Cork is CMAP Club of the year award, winner 2019/2020.
Institute Krav Maga is the evolution of a very effective self-defense program that emphasizes instinctive movements practical techniques, and realistic training scenarios.
ADULT 5 WEEK SELF DEFENCE COURSE
Adults 5 Week Beginners Self-Defence Week Course is the ultimate reality based self-defence system with fitness programme. Students train to defend themselves in any situation, against single and multiple attackers. Have you ever considered how you would defend yourself, sitting at a table, your back against a wall, surrounded by a group of thugs. Or even on the ground!
Institute Krav Maga Cork offers children's martial arts classes for ages kids and Teens 6-14 yrs
A New Kids Martial Arts program focusing on bully prevention, exercise, and building confidence, we have designed a specialised syllabus for each age group, Super Kravers 6-9 yrs and Street Smart 10-14 yrs.
Learning based through fun and games helps to spark imagination and creativity, allowing the children to flourish.
Institute Krav Maga is a free-thinking reality-based martial arts for both kids and adults.
Since 2006 in ireland
Take advantage of 1-2-1 private training with a range of options for productive sessions at Institute Krav Maga Cork.
We offer private training sessions with our certified Institute Krav Maga  instructors. You can schedule 60-minute sessions to improve fight and self-defense techniques and to further cultivate your survival instincts.
THE POWER OF KRAV NOW WITHIN YOUR REACH
krav maga: 15yrs to Adult
Krav Maga is an effective, modern, and dynamic self-defense and fighting system. It is designed to be practical and intuitive for people of any age, shape, or size. The techniques expand on your natural instincts to develop skills quickly and effectively, while enabling you to address attacks under any scenario. We're proud to offer you the highest quality instruction in these weapons-based and empty hand system.
What can you expect to learn at one of our classes?
The class will boost your self-confidence and esteem. At Institute Krav Maga Cork martial arts classes we push you out of your comfort zone. Therefore, helping discover self-confidence in achieving any goal you set in your mind.
The class will give you the ability to protect yourself and understand the human energy. In class, you will gain life-changing knowledge and training to defend yourself from any dangerous situation
The class will enhance your awareness of your surroundings and increase your concentration levels, especially when you train under stress based on reality situations. It will increase your reflexes and reaction times in all activities.
Our class along with mental training equally focus on physical training. The initial warm-up session which involves aerobic and cardio exercise which will help in improving endurance, flexibility and strength.
We here at Institute Krav Maga understand what it's like to worry about your safety. That's why we've put together this ten week course, so that you can rest easy knowing that you'll be safe, secure and condfident after your training with us. 
HEAR WHAT PEOPLE ARE SAYIN'
Brilliant place to train! I used to go to the Gym 3-4 nights a week and used to dread going most of the time. Since joining Institute Krav Maga Cork, i now look forward my training sessions. Great instructor and very welcoming members. Couldn't recommend highly enough! Thank you Artur and Team!!
"Coaching is unlocking a person's potential to maximise performance" and this club does. Artur and his team are so professional no matter what your fitness level, great group of people train here who help and support you. Great work out and great skill learned. Ticks all the boxes
I trained with Artur for 2 years, 1 on 1 personal training mainly....I can't recommend him enough! His seminars are also outstanding, each one specific to an area of Krav Maga. This guy is the real deal!
Best martial arts instructor you can have. Will take you to your maximum regardless of your fitness level. Drills are also adjusted based on the level of your experience with a gradual incline in complexity. Highly recommend!
Absolutely love this class. Arthur and Shane are genuinely helpful and encouraging. Would highly recommend if you are looking for a self defence class, to get fit ,have fun and or meet people, this covers the lot. #Addictive
I've tried various martial arts over the years but found Krav Maga for self-defense to be the most practical. I believe that EVERY woman should learn self-defense techniques and Institute of Krav Maga is the best place to do so. ) I can't recommend the place highly enough! 5 out of 5 stars.
A great, welcoming group of people. Started with the Women's Only Self Defense classes - really empowering. Continued with the regular classes and feeling great about it. Amazing way to gain needed skills, feel confident and empowered (and ready to kick ass) and work on condition. No previous experience needed.
This program is designed for those who want to learn Combat Sports in a controlled environment and with a safe and fun method.
Our Institute Krav Maga Combat Sport program is an evolved combat system, designed for you to learn quickly and achieve many benefits: lose weight, increase mental strength, improve self-confidence.  It provides you with a safe and easy to follow training program, allowing you to challenge yourself and improve.
training for professionals
Institute Krav Maga Ireland provides Tactical Training designed for professionals personel. Modern security forces need the proper methods and tools to guide officers and agents in the development of essential technical, tactical, mental and physical capabilities.