Start 27 January 2024 in Cork
WE WANT YOU TO JOIN OUR FAMILY
Institute Krav Maga Ireland was founded in 2006 and has grown tremendously in the years since. It started as a project full of aspirations and dreams but today, after years of hard work, it has become a reputable name in Ireland that is constantly growing. We want our family to grow, creating leaders who teach and help people of all ages.
We are building a strong network of instructors. For this mission we are looking for the best: people who are dedicated, who enjoy teamwork, who dare to face all kinds of challenges, who have a passion for martial arts and a deep need to fulfil their potential. Krav Maga isn't just a martial art, it's a way of life.
WHAT DOES IT MEAN TO BE PART OF THE INSTITUTE KRAV MAGA?
Are you a martial arts and self-defence enthusiast? The number of our instructors is growing every day, and if there's one thing that all our instructors have in common, it's the need to break with the established and fulfil their greatest passions, their way of life.
With Institute Krav Maga, success is multiplied. We aim to make martial arts accessible to everyone, so our training reaches audiences of all experience levels and ages.
Our training is easy to learn and teach, fun, effective and safe. Our training is specifically designed to teach large groups of people of all abilities and levels. Not only will you learn Krav Maga with us, but you will also learn how to teach your students and become an excellent instructor. We'll give you all the support and tools you need to achieve your goals and help you on your journey to success.
This Level 1 instructor course is designed for everyone, whether you are curious about self-defence, want to learn to defend yourself and your loved ones, need training ideas for your classes, or want to become a certified instructor.
Once you join this course you will see that we talk to you as if you were a coach, this is the way we have been teaching all our lives and we can guarantee that it will give you amazing results in a very short period of time. This way of teaching will make you learn and improve your skills better and faster.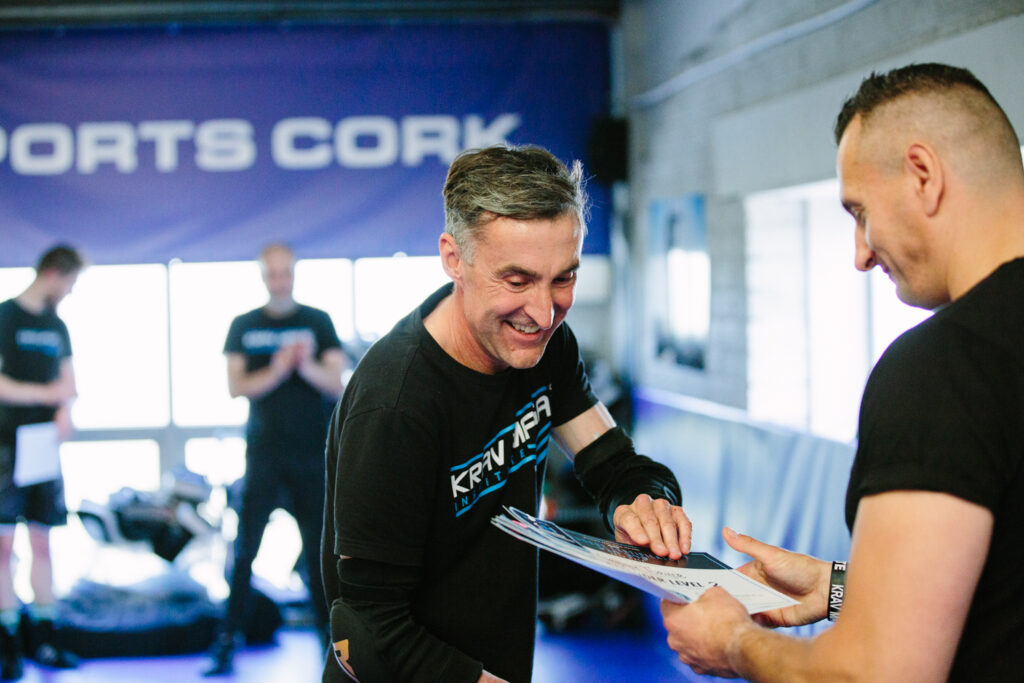 LEVEL 1 INSTRUCTOR COURSE
START THE ADVENTURE OF YOUR LIFE
Who can take the level 1 instructor course?
Minimum of three years Krav Maga practice or five years in other martial arts or fitness gym instructor. Good punching and kicking skills essential.
40 hours of delivered teaching over 5 days
How much does the course cost?
The objective of the course is to train appropriately experienced and knowledgeable people to teach foundation level Krav Maga self defence to beginner level students.
What qualifications will I receive on completion of a course?
On successful completion of the Level 1 Krav Maga Instructor Course you will be qualified to teach content from our Defender Level 1 (D1) curriculum, subject to joining Institute Krav Maga Ireland on an Instructor Membership. You will receive the following qualification: Krav Maga Level 1 Instructor
Institute Krav Maga Ireland Level 1 Instructor Course
Please complete this form to find out if you are eligible to apply the course