Build Confidence and Learn Realistic Self-Defence.
Institute Krav Maga Cork Unit 1, Deanrock Business Park, Cork, T12 VY60
Working Hours  Daily 5pm till 9pm; sat 10am till 12pm
Technique can include Punches, Kicks, Elbows, Trapping, Takedowns, Throws, Ground & Pound, Self-Awareness & Street Safety etc. The dynamic of needing to use both your legs and upper body strength means that you are toning all your muscles and learning a unique form of martial arts training system.
Our program will help you feel empowered and confident as well as giving you a form of exercise that you can enjoy. This will stimulate the mind and develop inner strength which is great way of getting rid of stress. Our classes will help you lose weight and keep in shape through full body workout.
Comprehensive Krav Maga Training? Our Adult krav maga Program Has The Answer!
Join us today for the best Krav Maga and Combat Sports training in town. Fill out the short form on your screen to get started today!
TAKE ADVANTAGE OF OUR EXCLUSIVE WEB OFFER!
Try 1 Class of Martial Arts for FRE
Enter Your Information Below
HEAR WHAT PEOPLE ARE SAYIN'
Martial Arts can benefit so many people! Don't just take our word for it – here's what one of our student says!
"Coaching is unlocking a person's potential to maximise performance" and this club does. Artur and his team are so professional no matter what your fitness level, great group of people train here who help and support you. Great work out and great skill learned. Ticks all the boxes
I trained with Artur for 2 years, 1 on 1 personal training mainly....I can't recommend him enough! His seminars are also outstanding, each one specific to an area of Krav Maga. This guy is the real deal!
Best martial arts instructor you can have. Will take you to your maximum regardless of your fitness level. Drills are also adjusted based on the level of your experience with a gradual incline in complexity. Highly recommend!
Absolutely love this class. Arthur and Shane are genuinely helpful and encouraging. Would highly recommend if you are looking for a self defence class, to get fit ,have fun and or meet people, this covers the lot. #Addictive
I've tried various martial arts over the years but found Krav Maga for self-defense to be the most practical. I believe that EVERY woman should learn self-defense techniques and Institute of Krav Maga is the best place to do so. ) I can't recommend the place highly enough! 5 out of 5 stars.
Brilliant place to train! I used to go to the Gym 3-4 nights a week and used to dread going most of the time. Since joining Institute Krav Maga Cork, i now look forward my training sessions. Great instructor and very welcoming members. Couldn't recommend highly enough! Thank you Artur!!
Our Adult Krav Maga Martial Arts program will help you:
DEFEND & PROTECT YOURSELF
You don't only learn how to handle yourself, but also handling your attackers from behind! Learn how to counter every attack, and get away safe and confident.
INCREASE YOUR FITNESS LEVEL
Enjoy more energy in your everyday life
GAIN MORE SELF-CONFIDENCE
We offer martial arts techniques and scenarios that make sure you can get ahead of yourself.
Heighten your focus at home & in the workplace
meet your krav maga expert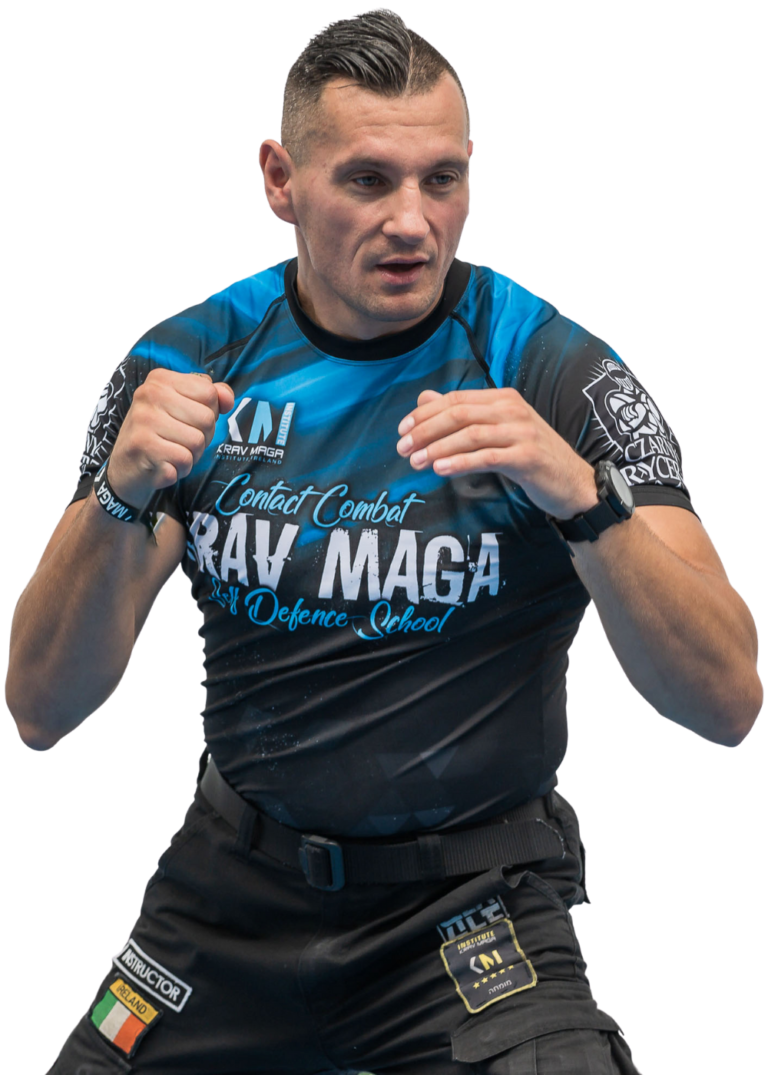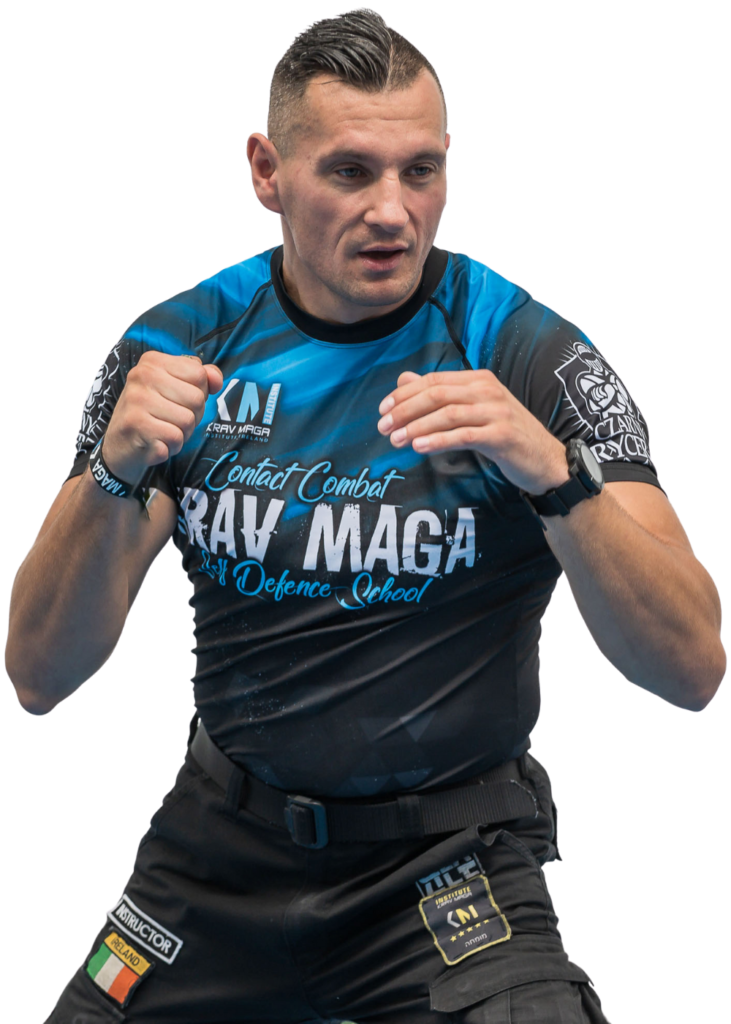 black belt expert krav maga with over 20 years' experience in martial arts
The Course is conducted by Arthur Dziadkowiec , Institute Krav Maga Ireland head instructor and a personal trainer, with many years' experience in martial arts and the fitness industry.
To get a better idea of who Arthur is, here are just some of his credentials:
Head Instructor Institute Krav Maga Ireland
Expert Black Belt Krav Maga
Spartan Physical Strength Coach
Graduate CQB E.S.A European Security Academy
H.S.R.T High Stress Reaction Training
Law Enforcement Krav Maga Course Higher Police School in Szczytno

Military Krav Maga Instructor qulifiaction in Israel

S.E.R.E Survival Evasion Resistance Escape
C.T.A – Counterterrorism and Anti-Skyjacking Course
TC3 (Tactical Combat Casualty Care)
Advanced Tactical Knife Instructor
Combat Sport Coach
BJJ Blue Belt
Develops and coaches the professional Instructor Training courses in the Ireland
Arthur has taught modern Krav Maga Combat methods to over 2,000 Students in Cork and Ireland.
YOUR KRAV MAGA EDUCATION WILL BE
5 STAR AND SECOND TO NONE


"Coaching is unlocking a person's potential to maximise performance" and this club does. Artur and his team are so professional no matter what your fitness level, great group of people train here who help and support you. Great work out and great skill learned."
Frequently Asked Questions
What Clothing or Clothing Do I Need?
You will only need your normal gym gear, a sweat towel, bottle of water to keep yourself hydrated whilst training as we provide all other relevant training equipment.
Im a beginner, can I come to your classes?
Yes. Our classes accommodate both beginners and experienced people who have had other types of martial arts & self defence training.
Am I too Old For Your Classes?
Our eldest student is in his 60's and he's absolutely loving the classes, so one is ever too old to join.
will i get hurt during your classes?
Despite teaching no nonsense, reality based street defence; our classes are not only taught in a very fun and enjoyable manner but more importantly are always taught with great care and control to promote a very safe environment for all students.
Getting hurt in our classes should never be a concern for any potential student, especially when we have students ranging from only 6 years old to students in their 60's.
From What Age can somone join your classes?
Super Kravers is our youngest age group ranging from the ages of 6 to 9 and Smart Street Juniors& Teens ages 10 – 14yrs.
do i need to be physically fit before joining your classes?
Absolutely not. In fact, many people join our classes especially to get fit and into shape. We have had people join our classes who started off very unfit and only in a matter of a few weeks, their fitness greatly improved and continues to do so. Read the testimonials of these people yourself on our reviews page.
what type of people attend your classes?
It can be very daunting for many people to come to a new martial arts / self defence class for the first time, especially when many places are notorious for having testosterone and ego just over-flowing in the air.
We are extremely proud that our classes are nothing like that all. It's something about our training at Krav Maga as well as the overall culture promoted within our classes by our Instructors that just does not allow for any ego. Our classes are in fact well known to be very warm and welcoming, where even the experienced students are always happy to help any new comers.
When someone new joins our classes, there is a reason why we always say "Welcome to the Krav Maga Family!" It's because people really do get a sense of family when becoming part of .
Can I only attend one class per week or do I need attend more classes each week?
We have some students who can only make one lesson per week due to other commitments and then we have other students who come four times a week.
The progress made by training more than once a week will naturally be far greater. But it is understandable if you have other commitments as training once a week is still much better than having no training at all.