women only self defence course
Krav Maga is a valuable and well proven tool to increase women's safety and prevent assaults at all cost.
Self-protection is also about prevention, learning how to set and enforce boundaries, assert yourself and safely de-escalate situations.
where
Unit 1, Deanrock Business & Technology Park, Cork, T12 VY60
Open to everybody
Everyone is welcome. No previous experience required
Register your interest for all the latest offers and timetables for women!
Coaching is unlocking a person's potential to maximise performance" and this club does. Arthur and his team are so professional no matter what your fitness level, great group of people train here who help and support you. Great work out and great skill learned. Ticks all the boxes.
Benefits of Joining our Womens Program
Our Womens Program is a practical self defence and fitness course, taught alongside ethical, moral and more importantly, effective self defence. It's been designed to effectively teach you to proven and tried self defence strategies in a way that's guaranteed to keep it in your head, for when you need in most.
DEFEND & PROTECT YOURSELF
Learn how to protect yourself from most common attacks
Enjoy significant gains in overall fitness level
Get into great shape with a cardiovascular workout and sports conditioning techniques to burn fat and tone muscle.
We offer martial arts techniques and scenarios that make sure you can get ahead of yourself.
Develop awareness and self-confidence to deal with typical assaults against women
Become part of the "Krav Maga Family"
Instinct. Real Techniques. KEEP YOURSELF SAFE!
We here at Institute Krav Maga understand what it's like to worry about your safety. That's why we've put together this ten week course, so that you can rest easy knowing that you'll be safe, secure and condfident after your training with us.
What are people saying about Institute Krav Maga Cork?
A great, welcoming group of people. Started with the Women's Only Self Defense classes - really empowering. Continued with the regular classes and feeling great about it. Amazing way to gain needed skills, feel confident and empowered (and ready to kick ass) and work on condition. No previous experience needed.
Myra Kokke
Designer
Fantastic place to be! Brilliant instructors. welcoming atmosphere from fellow kravers😄😄 definitely should give it a go! 💪💪💪
Vanessa Santos
Nurse
Absolutely love this class. Arthur and Shane are genuinely helpful and encouraging. Would highly recommend if you are looking for a self defence class, to get fit ,have fun and or meet people, this covers the lot. #Addictive
Lindsey Higgins
Pharmacist
I've tried various martial arts over the years but found Krav Maga for self-defense to be the most practical. I believe that EVERY woman should learn self-defense techniques and Institute of Krav Maga is the best place to do so. ) I can't recommend the place highly enough! 5 out of 5 stars.
Dominika Kubisa
Digital Marketing
Our instructors are continually training and studying martial arts to keep up to date and provide the latest knowledge to their students. They also receive ongoing training on how to provide quality teaching to ensure students learn life skills, achieve fitness and have fun at the same time.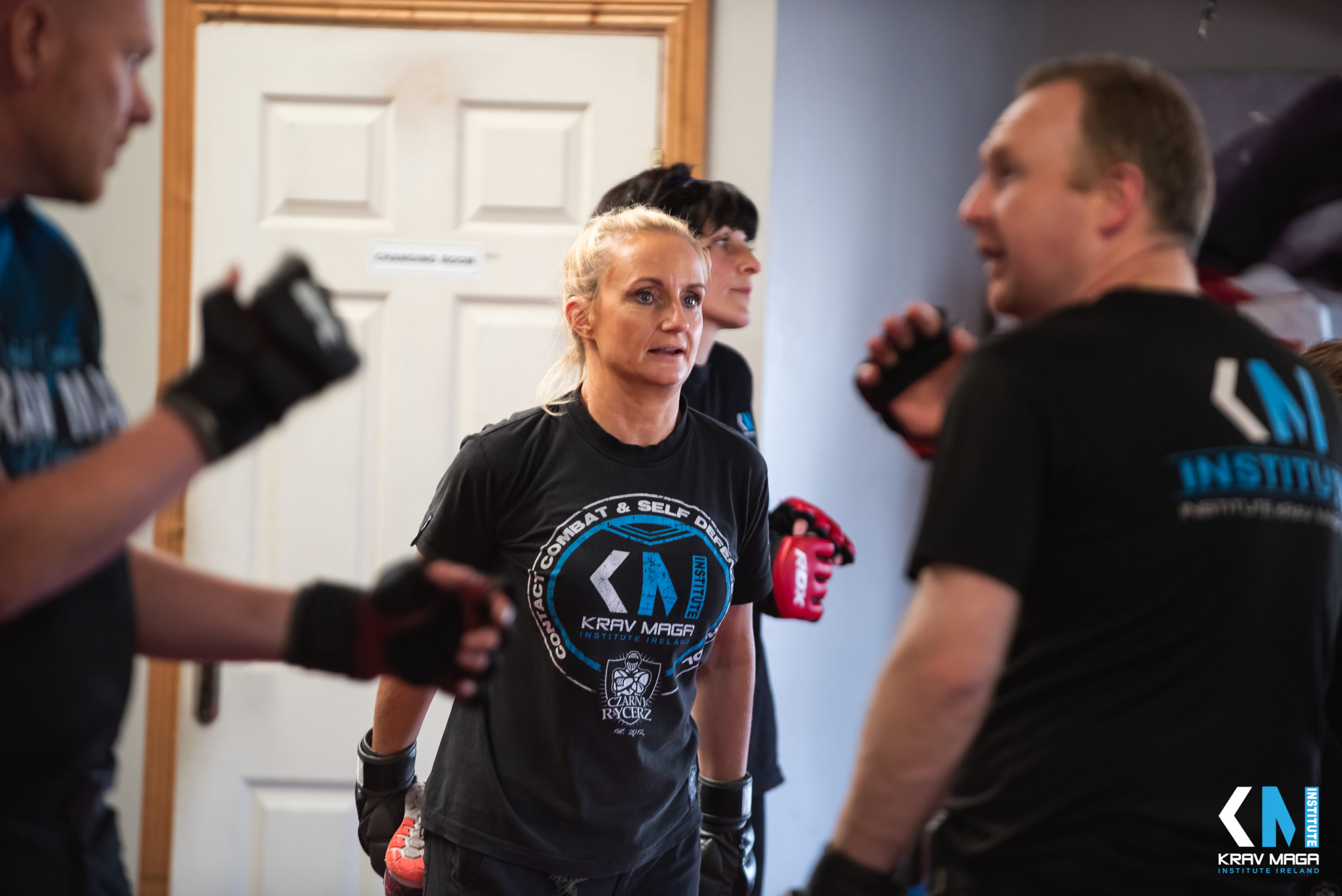 Valerie Oleary
Instructor assistant
Valerie  is our Assistant Instructor. She has always been passionate about Martial Arts which is why she found Krav Maga beneficial to her life. She has been with Institute Krav Maga Cork for five years and training with Arthur privately to embrace her passion.
arthur dziadkowiec
Head Instructor
Institute Krav Maga Ireland head instructor and a personal trainer, with many years' experience in martial arts and the fitness industry.
The aim of this course is to teach you how to save your life, using martial arts as the vehicle, specifically self defence techniques. This is done initially by talking you through a specific scenario, then showing you an effective defence against it. When you're ready and understand what's happening, it's time to do it!
YOU'LL LEARN EXACTLY WHAT IT TAKES TO ESCAPE FROM VIOLENCE, AND HOW TO DO IT, RELIABLY, UNDER PRESSURE
Not as importantly, but still a good part of the course, is our focus on fitness. We like to think we're pretty stylish here at Institute Krav Maga, and fitness is a big part of that. It doesn't matter your size or shape, what matters is that you want to put the effort in. We'll make sure you find a way to either find a level you're comfortable with, or really push yourself.
It's important to us that we're not like a classic martial arts course, there's no focus on tradition or rigid techniques. We prefer to focus on real life scenarios, things that can actually happen to you. We make sure that we're nice and friendly, and don't tolerate any bullying behaviours, so you know when it's time to practice under stress you can trust us, and focus on learning.
FREQUENTLY ASKED QUESTIONS
Everyone is welcome. No previous experience is required.
This course will be limited in places as our instructors want to spend as much as as possible with you to ensure you get as much as you can from the course. 
Book on early to avoid disappointment as we are expecting a sell out!