Where your Krav Maga Self Defence journey begins!
KRAV MAGA FUNDAMENTALS COURSE For Beginners
It's not about learning all possible fighting techniques but taking advantage of what we already naturally know.
1st February, every Tuesday 8pm till 9pm for four weeks
where
Institute Krav Maga Cork, Unit 1 Deanrock Business & Technology Park Cork T12 VY60
Open to everybody
Everyone is welcome. Age 14+ and adults. No previous experience is required.
early bird price finish on. book your place today
INSTITUTE KRAV MAGA TRAINING
14YRS+ AND Adult BEGINNER FITNESS & SELF DEFENCE COURSE
Fancy getting a little fitter? Losing a little weight or feeling a little more confident? Then Institute Krav Maga Cork is for you!
Following the enormous success of our 4 week beginner courses, we are now happy to open up registration for our next course.   
Our 4 week Adult beginner courses are the perfect introduction to what we do here at Institute Krav Maga Cork. We realize that it can be a little intimidating walking into a new class full of people who know what they're doing.
This course is open to all ages, skill levels and anyone aged 14 or older. Under 18s will require written parental consent to attend the course. 
Therefore we are running a number of 4 week beginner courses throughout the year. You all start with little to no knowledge of Institute Krav Maga  and over the 4 weeks we give you a great overview of what we do, ready for you to join our regular class!
Our adult program focuses on confidence, fitness and basic self defence, while our kids program focuses on confidence, fitness and anti-bullying.
THE PERFECT WEAPON FOR SELF DEFENCE
We study the science of defence to create and develop functional training programs. We've been analysing and investigating human behaviour and its innate characteristic for survival: instinct. We offer a modern self-defence training, always in a safe environment where learning is fun and effective.
We analyse all physical and mental aspects of combat to offer specialized programs that provide effective solutions to real problems. Our years of research, investigation and our experiences have allowed us to develop creative solutions to all kinds of confrontations, from street fights with multiple attackers to bullying, sexual assaults and of course attacks with weapons…
MARTIAL ARTS ARE IN OUR DNA. HUMANS WERE FIGHTERS.
Our Adult Self Defence Training will teach you how to:
Defend against all 7-major knockout points in one move – all at the same time.
Learn to develop knockout power from all positions, including knees, sitting, and lying.
Learn how to use your survival instinct
Become a force to be reckoned with in the bars, clubs and close-quarter encounters
Defend yourself, your family and loved ones
WITH KRAV MAGA TRAINING, YOU CAN
DEFEND & PROTECT YOURSELF
You don't only learn how to handle yourself, but also handling your attackers from behind! Learn how to counter every attack, and get away safe and confident.
INCREASE YOUR FITNESS LEVEL
Get into great shape with a cardiovascular workout that uses heavy bag work and sports conditioning techniques to burn fat and tone muscle.
GAIN MORE SELF-CONFIDENCE
We offer martial arts techniques and scenarios that make sure you can get ahead of yourself.
Our daily lives are filled not only with the best moments, but also dull-or worse, awful-moments. Sweat them all out and keep them from coming back with our rigorous training.
Inside the new fighting system, you'll discover the most powerful secrets, tips, and proven techniques for defeating any opponent or multiple opponents!!
REGULAR
PRICE

AREAS THAT ARE TO BE STUDIED

Understanding the street environment

Increase cardiovascular fitness

How to protect your head in a street fight

Multiple opponents tactics

Defending basic grabs attacks

What to do if somebody pushes you

The best defence against the wild punch
SPECIAL PROMOTIO EARLY BIRDS DISCOUNT
Ends 23rd January 2022
AREAS THAT ARE TO BE STUDIED

Understanding the street environment

Increase cardiovascular fitness & endurance

How to protect your head in a street fight

Multiple opponents tactics

What to do if somebody pushes you

Defending basic grabs attacks

The best defence against the wild punch
Subscribe to our newsletter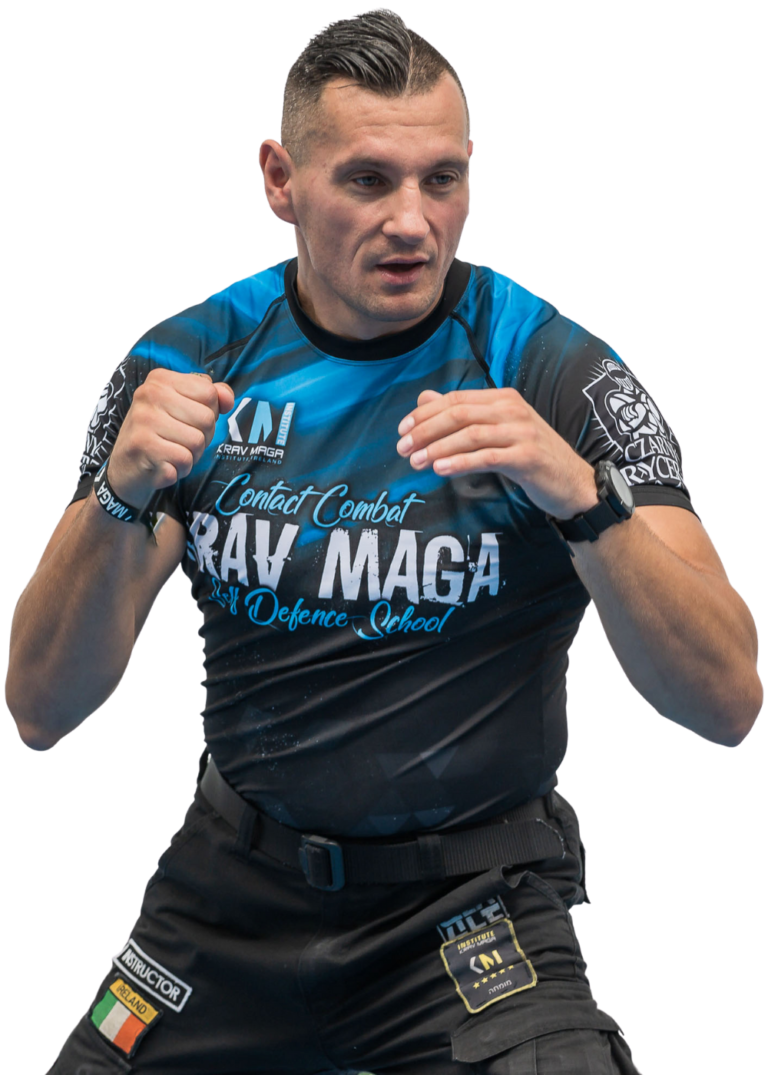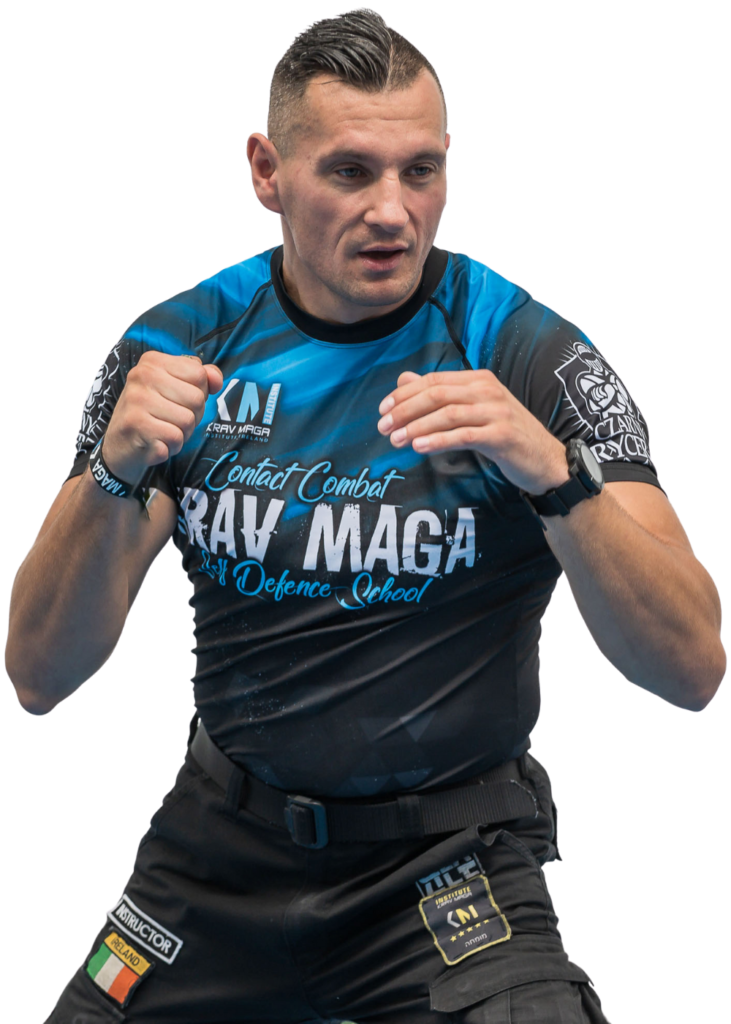 black belt expert krav maga with over 20 years' experience in martial arts
The Course is conducted by Arthur Dziadkowiec , Institute Krav Maga Ireland head instructor and a personal trainer, with many years' experience in martial arts and the fitness industry.
To get a better idea of who Arthur is, here are just some of his credentials:
Head Instructor Institute Krav Maga Ireland
Expert Black Belt Krav Maga
Spartan Physical Strength Coach
Graduate CQB E.S.A European Security Academy
H.S.R.T High Stress Reaction Training
Law Enforcement Krav Maga Course Higher Police School in Szczytno

Military Krav Maga Instructor qulifiaction in Israel

S.E.R.E Survival Evasion Resistance Escape
C.T.A – Counterterrorism and Anti-Skyjacking Course
TC3 (Tactical Combat Casualty Care)
Advanced Tactical Knife Instructor
Combat Sport Coach
BJJ Blue Belt
Develops and coaches the professional Instructor Training courses in the Ireland
Arthur has taught modern Krav Maga Combat methods to over 2,000 Students in Cork and Ireland.
YOUR KRAV MAGA EDUCATION WILL BE
5 STAR AND SECOND TO NONE


"Coaching is unlocking a person's potential to maximise performance" and this club does. Artur and his team are so professional no matter what your fitness level, great group of people train here who help and support you. Great work out and great skill learned."
HEAR WHAT PEOPLE ARE SAYIN'
Martial Arts can benefit so many people! Don't just take our word for it – here's what one of our previous graduates have said!
Everyone is welcome. No previous experience is required.
This course will be limited in places as our instructors want to spend as much as as possible with you to ensure you get as much as you can from the course. 
Book on early to avoid disappointment as we are expecting a sell out!
Frequently Asked Questions
You will learn a highly effective and dynamic street application method
You will master one of the most important rules on the street TGH, touch me!, Grab me!, Hit me!
You will develop physical, mental and emotional awareness
You will improve your personal well-being
You will be able to protect yourself and your loved ones.
On what is our training based on?
This course is built on the study and investigation of the human instinct and our own real experiences and, therefore, continues to evolve as the urban scene changes. It's a simple and straight-forward learning system, the training is based on innovative and creative techniques.
What Clothing or Clothing Do I Need?
You will only need your normal gym gear, a sweat towel, bottle of water to keep yourself hydrated whilst training as we provide all other relevant training equipment.
Im a beginner, can I come to your classes?
Yes. Our classes accommodate both beginners and experienced people who have had other types of martial arts & self defence training.
Am I too Old For Your Classes?
Our eldest student is in his 60's and he's absolutely loving the classes, so no one is ever too old to join.
will i get hurt during your classes?
Despite teaching no nonsense, reality based street defence; our classes are not only taught in a very fun and enjoyable manner but more importantly are always taught with great care and control to promote a very safe environment for all students.
Getting hurt in our classes should never be a concern for any potential student, especially when we have students ranging from only 6 years old to students in their 60's.
From What Age can somone join your classes?
Super Kravers is our youngest age group ranging from the ages of 6 to 9 and Smart Street Juniors& Teens ages 10 – 14yrs.
do i need to be physically fit before joining your classes?
Absolutely not. In fact, many people join our classes especially to get fit and into shape. We have had people join our classes who started off very unfit and only in a matter of a few weeks, their fitness greatly improved and continues to do so. Read the testimonials of these people yourself on our reviews page.
what type of people attend your classes?
It can be very daunting for many people to come to a new martial arts / self defence class for the first time, especially when many places are notorious for having testosterone and ego just over-flowing in the air.
We are extremely proud that our classes are nothing like that all. It's something about our training at Krav Maga as well as the overall culture promoted within our classes by our Instructors that just does not allow for any ego. Our classes are in fact well known to be very warm and welcoming, where even the experienced students are always happy to help any new comers.
When someone new joins our classes, there is a reason why we always say "Welcome to the Krav Maga Family!" It's because people really do get a sense of family when becoming part of .
Can I only attend one class per week or do I need attend more classes each week?
We have some students who can only make one lesson per week due to other commitments and then we have other students who come four times a week.
The progress made by training more than once a week will naturally be far greater. But it is understandable if you have other commitments as training once a week is still much better than having no training at all.