Build Confidence and Learn Realistic Self-Defence.
Unfortunately due to latest government announcement of Level 5 restrictions, Institute Krav Maga Cork will be closed for the next 6 weeks. We apologise for any inconvenience caused, but this is totally outside of our control. Our 5 Week Adults Fundamentals October course is postponed to December 1st.
when
December 1st, Tuesday 8pm
where
Unit 1 Deanrock Business & Technology Park, Togher, Cork, T12 VY60
Open to everybody
Everyone is welcome. No previous experience required
Subscribe to receive updates
If you are interested to join our adult fundamentals course please sign up. We will update you ASAP when bookings will be open.
Build Confidence and Learn Realistic Self-Defence. New exciting beginners 5 week course for Adults 15+
THE MARTIAL ARTS BORN ON THE STREETS
Early Bird discount ends 20th of november 2020! Join Now
INSTITUTE KRAV MAGA TRAINING
15YRS+ AND Adult 5 WEEK BEGINNER FITNESS & SELF DEFENCE COURSE
Fancy getting a little fitter? Losing a little weight or feeling a little more confident? Then Institute Krav Maga Cork is for you!
Following the enormous success of our 5 week beginner courses, we are now happy to open up registration for our next course.   
Our 5 week Adult beginner courses are the perfect introduction to what we do here at Institute Krav Maga Cork. We realize that it can be a little intimidating walking into a new class full of people who know what they're doing.
This course is open to all ages, skill levels and anyone aged 15 or older. Under 18s will require written parental consent to attend the course. 
Therefore we are running a number of 5 week beginner courses throughout the year. You all start with little to no knowledge of Institute Krav Maga  and over the 5 weeks we give you a great overview of what we do, ready for you to join our regular class!
Our adult program focuses on confidence, fitness and basic self defence, while our kids program focuses on confidence, fitness and anti-bullying. We are also running a special 10 week ladies only course every Thursdays evening so check our website to see when the next course starts!
Check Out The New ADULT SELF DefenCe Program
Most criminals don't have an alternate plan. They Just have an Alternate Victim
Learn why it is so important to constantly maintain your personal space, and be ready for anything if it happens.
WITH KRAV MAGA TRAINING, YOU CAN
DEFEND & PROTECT YOURSELF
You don't only learn how to handle yourself, but also handling your attackers from behind! Learn how to counter every attack, and get away safe and confident.
INCREASE YOUR FITNESS LEVEL
Get into great shape with a cardiovascular workout that uses heavy bag work and sports conditioning techniques to burn fat and tone muscle.
GAIN MORE SELF-CONFIDENCE
We offer martial arts techniques and scenarios that make sure you can get ahead of yourself.
Our daily lives are filled not only with the best moments, but also dull-or worse, awful-moments. Sweat them all out and keep them from coming back with our rigorous training.
MARTIAL ARTS ARE IN OUR DNA. HUMANS WERE FIGHTERS.
Martial Arts were originally developed for:
Ability to Protect Your Self and Family
Physical, Mental and Spiritual Development
Understanding of Betterment and Personal Well-Being
But modern society has made humans weak. We have forgotten what it's like to survive.
Our Adult Self Defence Training will teach you how to:
Defend against all 7-major knockout points in one move – all at the same time.
Learn to develop knockout power from all positions, including knees, sitting, and lying.
Learn how to use your survival instinct
Become a force to be reckoned with in the bars, clubs and close-quarter encounters
Defend yourself, your family and loved ones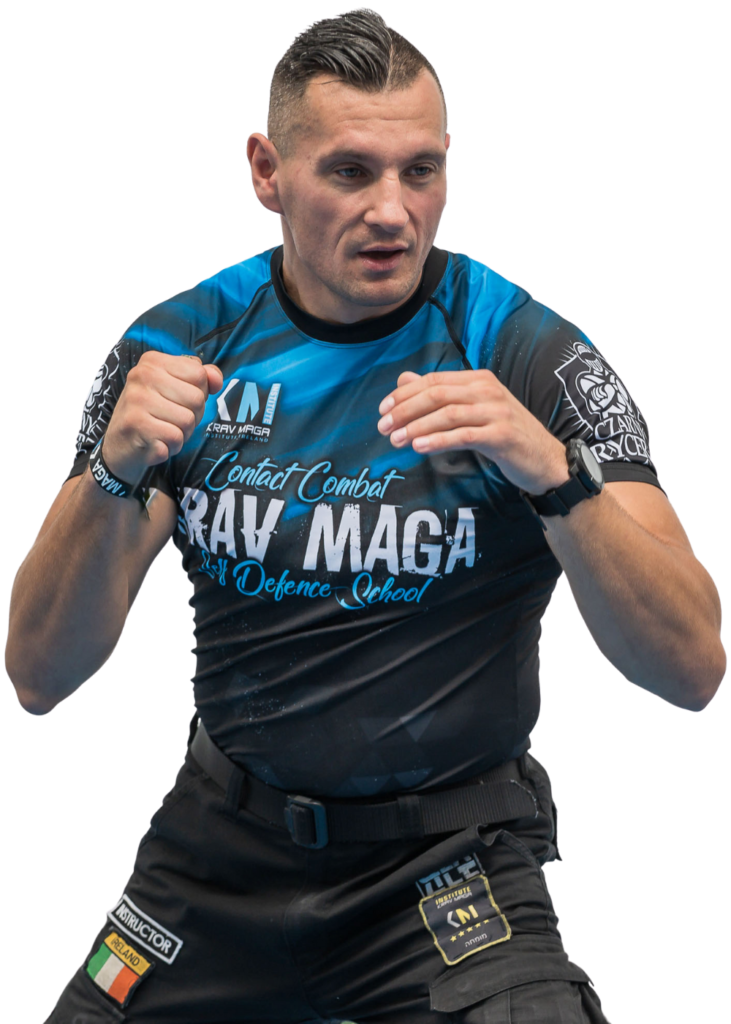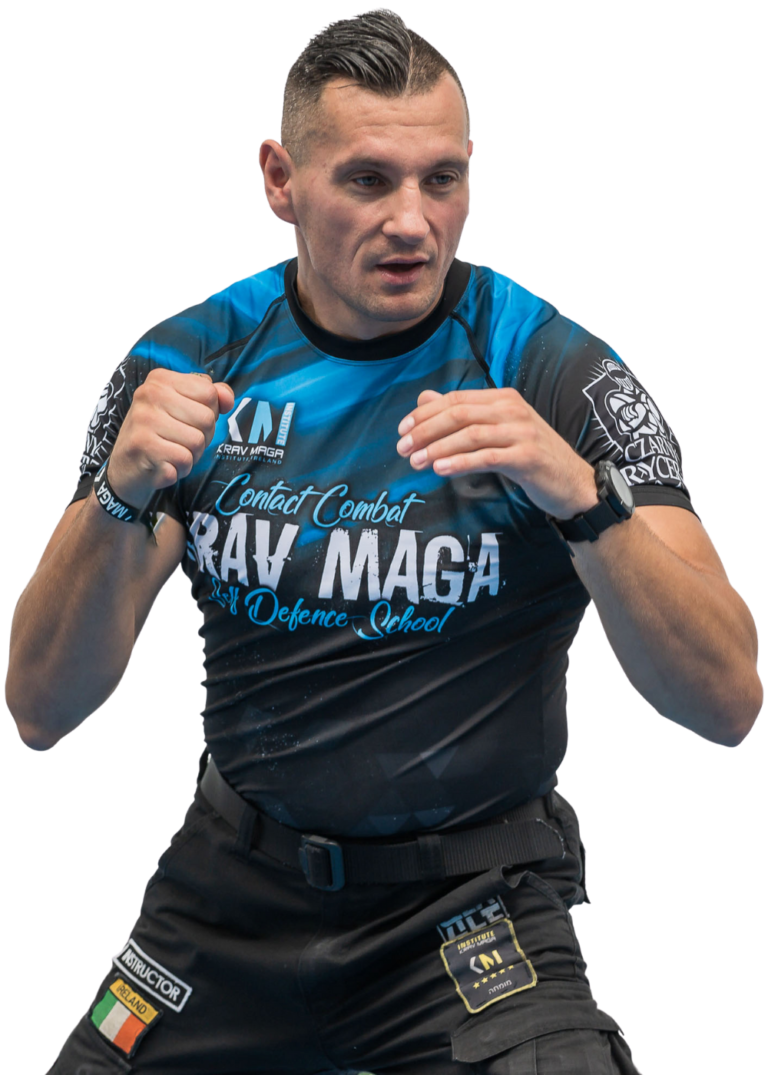 black belt expert krav maga with over 20 years' experience in martial arts
The Course is conducted by Arthur Dziadkowiec , Institute Krav Maga Ireland head instructor and a personal trainer, with many years' experience in martial arts and the fitness industry.
To get a better idea of who Arthur is, here are just some of his credentials:
Head Instructor Institute Krav Maga Ireland
Expert Black Belt Krav Maga
Spartan Physical Strength Coach
Graduate CQB E.S.A European Security Academy
H.S.R.T High Stress Reaction Training
Law Enforcement Krav Maga Instructor
Military Krav Maga Instructor qulifiaction in Israel

S.E.R.E Survival Evasion Resistance Escape
C.T.A – Counterterrorism and Anti-Skyjacking Course
TC3 (Tactical Combat Casualty Care)
Combat Sport Coach
BJJ Blue Belt
Develops and coaches the professional Instructor Training courses in the Ireland
Arthur has taught modern Krav Maga Combat methods to over 2,000 Students in Cork and Ireland.
YOUR KRAV MAGA EDUCATION WILL BE
5 STAR AND SECOND TO NONE


"Coaching is unlocking a person's potential to maximise performance" and this club does. Artur and his team are so professional no matter what your fitness level, great group of people train here who help and support you. Great work out and great skill learned."
HEAR WHAT PEOPLE ARE SAYIN'
"Coaching is unlocking a person's potential to maximise performance" and this club does. Artur and his team are so professional no matter what your fitness level, great group of people train here who help and support you. Great work out and great skill learned. Ticks all the boxes
I trained with Artur for 2 years, 1 on 1 personal training mainly....I can't recommend him enough! His seminars are also outstanding, each one specific to an area of Krav Maga. This guy is the real deal!
Best martial arts instructor you can have. Will take you to your maximum regardless of your fitness level. Drills are also adjusted based on the level of your experience with a gradual incline in complexity. Highly recommend!
Absolutely love this class. Arthur and Shane are genuinely helpful and encouraging. Would highly recommend if you are looking for a self defence class, to get fit ,have fun and or meet people, this covers the lot. #Addictive
I've tried various martial arts over the years but found Krav Maga for self-defense to be the most practical. I believe that EVERY woman should learn self-defense techniques and Institute of Krav Maga is the best place to do so. ) I can't recommend the place highly enough! 5 out of 5 stars.
Brilliant place to train! I used to go to the Gym 3-4 nights a week and used to dread going most of the time. Since joining Institute Krav Maga Cork, i now look forward my training sessions. Great instructor and very welcoming members. Couldn't recommend highly enough! Thank you Artur!!
Everyone is welcome. No previous experience is required.
This course will be limited in places as our instructors want to spend as much as as possible with you to ensure you get as much as you can from the course. 
Book on early to avoid disappointment as we are expecting a sell out!